Belts and Hoses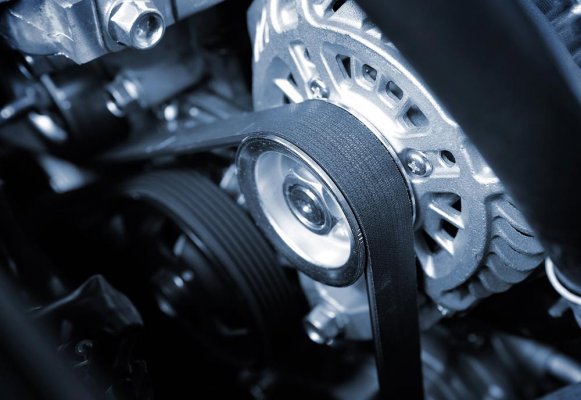 Your vehicle's engine may be equipped with a single serpentine belt or multiple belts, depending on its make and model. These belts loop around pulleys to transfer rotational energy to various engine accessories. They are responsible for driving components such as the alternator, water pump, air conditioning, power steering, and even power brakes in larger vehicles.
Regularly inspect your belts and hoses
In the case of a serpentine belt, its failure can lead to overheating or a rapid loss of electrical power, potentially leaving you stranded. Rubber compounds are commonly used in belt manufacturing, and over time, they can stretch, crack, or become damaged due to exposure to chemicals. It is crucial to inspect your belts during each service opportunity to ensure the continued effectiveness of all engine systems reliant on them.
Proper maintenance for reliable operation
Maintaining your vehicle's belts and hoses is essential to ensure smooth operation and reliability. This includes regular inspections, replacement of worn or damaged components, and using the appropriate fluids and lubricants.
Your trusted automotive service provider
At SPARKS Complete Car Care, we strive to be your top choice for auto and truck maintenance and repair services. Our team of friendly staff and professional technicians is dedicated to exceeding your car service expectations. We understand the importance of relying on your vehicle to transport you and your loved ones safely, and we treat every vehicle with the utmost care, as if it were our own.
Using only the highest quality replacement parts, we take pride in our work, as we recognize the significance of our reputation. Your feedback is valuable to us, so please don't hesitate to contact us or visit our facility to share your thoughts on the services we have provided. Whether you're a new customer or a returning one, our goal is to ensure your satisfaction and earn your trust to recommend us to your friends.
At SPARKS Complete Car Care, your comprehensive automotive care center in Naperville, IL, we exclusively install quality replacement parts. Give us a call, and let us help you stay safe and economically on the road. We proudly serve Naperville and the surrounding areas.